Premium locksmith solutions across Sacramento, CA. We are available around the clock and offer highly competitive rates.
Serviced Areas
Payment Options
American Express, MasterCard, VISA
Contact Details
Products & Services
Residential
Whatever your home locksmith requirements are our technicians have a solution for you:

Unlock Door
Re Key
Replacement Keys
Lock Out Solutions
Key Cutting
Security Lock Installtion/Repair
---
Commercial
We provide service for all your business locksmith requirements, including consulting to assess your business locksmith requirements.
---
Auto
Our technicians are available 24 hours a day, 365 days a year and can respond to your location instantly.
No matter what your auto emergency locksmith need is, we have a wide variety of lock smith Sacramento solutions for you.

The following auto lock smith services are provided:

Lost Car Key Replacement
Fix Car Key
Ignition Replacement Open Trunk
Switchblade Key Cut
Transponder Key and Chip Key Programming
I would recommend this business
Fast Service, Great Rates! Our tech's name was Mike (great name...lol) He was quick to arrive and got our door open within minutes. A 24 Hour Locksmith is now on my speed dial causes chances are I'll need them again! That is for the great service!!!
| | | |
| --- | --- | --- |
| Value for money | | |
| Service & support | | |
| Quality | | |
| Location | | |
| Overall rating | | Excellent |
Customer Testimonials
Came out within ten minutes and got the key done in no time at all. Very friendly and fair price. Would recommend 10/10!
---
These people are life savers! I was locked out of my car on Sunday morning, and I called in hoping that they would be able to come right away. They came within reasonable time, dressed properly and gave me a good price. He even helped me by giving me some ideas on how to avoid this problem in the future. My tech had a great attitude for an early Sunday morning!
---
Eli was amazing. The service I got was fast and efficient, and the price was just as quoted on the phone. Thanks so much guys!
---
Itay is a very good locksmith technician. Professional and showed up earlier than expected. Very curteous and fast.
---
Yoshi came through when i absolutely needed help the most! It was freezing cold and my 3 kids and i was locked out of my car. Mr. Yoshi came and saved the day, thank you so much a 24 hour Locksmith... i know who i can depend on if i get licked out again
---
Yoshi really help me out got my car to star again
I recommend this lock smith! Good price, cheap and he was just the best at what he does
---
Had keys to a car stolen, our tech, Yoshi, was outstading. Quick, polite and efficient. Very pleased with the service.
---
Called the only other 24 hour open locksmith which is low rate locksmith they blew me off then called me back saying it's going to take a least 30 min for him to get here then about an hour make the key I didn't have that kind off time so call A24 Hour locksmith anwsered right away told me the price up front which was cheaper then what the other guy offered.He told me he will be there with 10 min which he was was super friendly and introduced​ him self as Adam was polite explianed everything and took him 5 min and I was ready to go. I have had other locksmith but never this fast amazing service !!!!!!
Adam Thank you so much you a life saver as this was my only car.
---
Ralph was awesome. The tech that came respectful. Kept me updated with situation as I was away. Great service. Highly recommend.
---
Great service! Thank you Sean! I cannot thank you enough. I just locked my keys in my car after an especially rough day, and Sean called me back quickly & gave me the rundown of what to expect and came out fast. No surprises. I wasn't expecting that kind of service this time of night. Everyone was so kind and helpful when they didn't have to be. It was really appreciated. Thank you.
---
Hey I know they've got some bad reviews here but these guys really knocked it out of the park for me my key was broken in the ignition and then my spare jammed into the ignition over the broken piece the dealer wanted 1200 and these guys knocked it out in 2 hours for 350 the tech was incredibly cool n nice showed up on time super great communication would definitely recommend again
Social Activity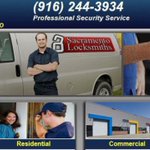 A 24 Hour Locksmith in Sacramento, CA is a licensed locksmith company. https://t.co/Wj3oIY2Z82
From Our Website
A 24 Hour Locksmith offers expert emergency locksmith services to Sacramento, CA residents. Experience has taught us that our customers need our services 24 hours a day. No matter what time of the day or night it is, it is very easy to find yourself locked out of your house, and when it's during the night it is usually easier to call an emergency locksmith than to wake up your friend who has a spare key to your house. Our customers sometimes find themselves locked out of their cars, homes and businesses and in need of our immediate lockout services.
---
A 24 Hour Locksmith is a long established one-stop shop locksmith service provider in Sacramento that proudly provides the local population with a wide variety of locksmith solutions. Known for our reliable, honesty, and integrity, along with our expertise in our field, we have left our mark on many of the local homes and businesses. We & our affiliate network of independent security experts pride ourselves on providing our customers with the highest level of professional service and solutions.
---
A 24 Hour Locksmith's top priority is its customers, and we will always go the extra mile to ensure that they are happy with every job we do. In order to keep our customers 100% satisfied 24 Hour Locksmith uses the best equipment, has the best team and offers our customers the best and most affordable prices that we can - every time! Our customers are delighted with our reliable and friendly team and our professional and honest service. It is no secret that we think the world of our team. Our customers do too!
---
We are A 24 Hour Locksmith, a reliable and premium locksmith company providing all types of locksmith services in Sacramento, California. This page contains all the frequently asked questions we've received from our customers in the past. We've rounded up all the relevant information to answer these questions, including tips related to our locksmith services to our customers in Sacramento. Our locksmith services can be grouped into 3 general categories-residential, commercial, and automobile. All of these services are available in case of emergencies too.
Nearest Businesses