Free yourself from unnecessary woes and tensions and have confidence as you step out of your doorstep and auto, as Lock and Roll got your valued possessions covered. We will clear all your lock troubles as we take pride in our efficient locksmith services, be it commercial, residential, or auto. We provide trustworthy services involving lock change, key cutting, lock repair, and 24/ 7 emergency lockout services. You can call us anytime, and we'll be there in a flash. We also skillfully extend our services further to intercom, security lock, safes, gates, and CCTV.

We carry a complete stock of replacement door knobs, lock systems, dead bolts, high security locks, mail box locks and replacement car and house keys. This makes us fully equipped to provide you with a locksmith service that is unmatched in Rancho Cucamonga. You can now roam around without the fear of losing keys or without ever worrying about the safety of your cherished property. You can enjoy your personal moments with your family and friends or concentrate on your work, free from any troubles.

We bring the affordable services of automotive, residential and commercial locksmiths to your doorstep by just a call. We, at locksmith Rancho Cucamonga, CA, offer you the best prices without ever compromising quality. Our mobile locksmiths can provide services to open or replace any kind of a locksmith problem ranging from transponder key replacement to business key replacements. We will do whatever it takes to keep your safety guaranteed.
Contact Details
Products & Services
Auto Locksmith
When any one of us thinks of owning a car or any vehicle, our worst fear would resort to its paramount security. The costlier the vehicle, the more it is at risk of damage or theft. This is the most important factor that drives us all towards buying a car with a state of the art locking system so that we can go off to our beds at night with no worries to carry over. But what would happen during the day time? What will happen when this state-of-the-art locking system locks you out on a busy day? The lockouts can't be prevented every time and that is what we are here for--to get you back into the car that you were so happy to own. We get the access and control back to you by sending off our Auto Locksmith trained professionals to mend the unwanted situation.
---
Commercial
Commercial Locksmith Rancho Cucamonga. Do you need to use lock systems of high security and sophistication at your business? People who like to use these systems often forget that these systems come at a price and if they can stop unauthorized entry by mischievous people of our society, they can also stop the owner from gaining access to them in times of dire need. The systems are most certainly made to help the owner, but in times of anxious desperation everyone can commit mistakes and forget the codes and combinations that these high security lock systems use. Our locksmith service offers solutions to these mistakes and problems so that you can proceed with your business dealings and get freed from your worries.
---
Residential
Our Residential Locksmith Rancho Cucamonga services are offered to the businesses in the following manner:

Trobleshooting
Emergency Lock Out Service
Lock Repairs
Key Duplication and Spare Keys
Lock Re-keys
Master Key Systems
Fresh Installations
Security Door Gates
Lock Boxes
Mailboxes
Padlocks
High Security Locks
Decorative Locks
I would recommend this business
Lock and Roll you rock! Very professional and honest with their service and prices. We were locked out of our RV and Gary came to our rescue. He arrived 12am on a very cold Saturday night and stayed until he opened our RV. He was so patient and got the job done. We were so relieved and happy with this company we highly recommend them. Thank you so much!
| | | |
| --- | --- | --- |
| Value for money | | |
| Service & support | | |
| Quality | | |
| Location | | |
| Overall rating | | Excellent |
---
I would recommend this business
Brittney & Alex from Lock and Roll Locksmith are very knowledgeable and extremely helpful. I had my keys done in seconds. And they recognize military personnel and discounts. I highly recommend their service!
| | | |
| --- | --- | --- |
| Value for money | | |
| Service & support | | |
| Quality | | |
| Location | | |
| Overall rating | | Excellent |
---
I would recommend this business
HUGE THANK YOU TO ABDUL! I was in desperate need of a brand new car key! It was unexpected and I was not financially prepared. He listed different options for me and was able to work with me under my unfortunate circumstances. He showed genuine concern. I will definitely be going back to him! THANK YOU SO MUCH ABDUL.
| | | |
| --- | --- | --- |
| Value for money | | |
| Service & support | | |
| Quality | | |
| Location | | |
| Overall rating | | Excellent |
---
I would recommend this business
My cat locked me out of my house on a Saturday afternoon and I spent some time calling around for a place that was either open or had availability. When I got on the line with the guy he let me know it would be over an hour before someone could get out to me. I was just happy someone could make it out at all so we set it up to have someone come out. It's a 115 degrees outside so you can imagine how excited I was when the guy called me maybe 15 minutes after I was off the phone saying he was coming and it would only be 25 minutes of wait time. He gave me another call when he arrived and was really friendly and worked pretty quick. I'm so thankful that they came so quickly and would definitely recommend them
| | | |
| --- | --- | --- |
| Value for money | | |
| Service & support | | |
| Quality | | |
| Location | | |
| Overall rating | | Excellent |
---
I would recommend this business
Alex was great! He got to our house quickly and was able to get our door unlocked quickly even though the batteries died and our lock is unable to be picked. He knew all the tricks and was even able to make us keys so we won't have this problem in the future. Excellent service and if we ever get locked out again (hopefully we won't) Lock and Roll will definitely be our first call. Highly recommend them.
| | | |
| --- | --- | --- |
| Value for money | | |
| Service & support | | |
| Quality | | |
| Location | | |
| Overall rating | | Excellent |
---
I would recommend this business
Al picked the lock on my safe in less than a minute!! Yay Al.. The manufacturer had told me that we would need to destroy the door in order to get it open. But Al came in and said that he could pick the lock no problem and he did!! I have put them in my phone contact as my new locksmith! I will definitely use these guys again.
| | | |
| --- | --- | --- |
| Value for money | | |
| Service & support | | |
| Quality | | |
| Location | | |
| Overall rating | | Excellent |
---
I would recommend this business
Lock & Roll to the rescue! It was the middle of the night when I realized I locked my keys in my trunk. Unfortunately my car does not have a trunk release latch in the car, the ONLY way to open my trunk is with the actual key. Abdul quickly came out in the middle of the night to check things out. He gave it his best efforts but said he needed to bring support and he could come back first thing in the morning. He kept his word and returned to my car with Tim who has 40 years of locksmith experience. They ended up needing to fabricate a Key from scratch right there in their van. This entailed if removing the lock from may car door, using it to make the key, then to replace the lock they had to removed the interior of the car door, then of course put that back on as well. Both men were very friendly and even as the sun began blazing on them, they worked non stop to help me, on a Saturday!

Great customer service. My charge was $165 for the labor, which I though was very reasonable for how much & hard they had to work! My only complaint was that I ended up paying about $187 total, because of a service charge to pay with my debit/credit card. I understand that the company themselves gets charged, I just wish I had known, because they did work on my car for about 2 hours & I could went to the bank in that time to get cash or a check. However I refuse to deduct a star because all in all, they totally could've gotten away with charging me way more for their services. Really appreciate their hard & honest work! Thanks again Abdul & Tim!
| | | |
| --- | --- | --- |
| Value for money | | |
| Service & support | | |
| Quality | | |
| Location | | |
| Overall rating | | Excellent |
---
I would recommend this business
I had a a Truck key made by Steven the locksmith. I highly recommend their lock smithing services to anyone and everyone. If you need a key made call them I will personally stake my reputation on their customer service.
| | | |
| --- | --- | --- |
| Value for money | | |
| Service & support | | |
| Quality | | |
| Location | | |
| Overall rating | | Excellent |
---
I would recommend this business
Steven, Abdul, and Michael are the best!!!
They're always coming through when you need them. No place is too far and it's never too late for them.
They're your heroes in a Mercedes Metris! LOL

They literally will go above and beyond to make sure you're taken care of.
I refer all my family and friends to them!
If you have roadside insurance, and they help you you'll even get reimbursed by your insurance!

Call them if you're a pinch, and don't think about smashing your window like I almost did!

Thank you guys so much for always being funny and quick. Best customer service!!!
| | | |
| --- | --- | --- |
| Value for money | | |
| Service & support | | |
| Quality | | |
| Location | | |
| Overall rating | | Excellent |
---
I would recommend this business
Highly knowledgeable staff. Fantastic customer service. Very reasonable pricing, and excellent products. I highly recommend this...
| | | |
| --- | --- | --- |
| Value for money | | |
| Service & support | | |
| Quality | | |
| Location | | |
| Overall rating | | Excellent |
Customer Testimonials
Had a great experience, Abdul offered great customer service and reasonable prices. He serviced a home I had for sale in Bloomington back in Sept. 2016 and I had missed to write a review which is the reason why I called Lock and Roll in the first place because of their reviews and I was NOT disappointed.
---
Very nice professional man he made an amazing offer and got here and the job done quick literally have nothing to complain about will definitely call again if I need a locksmith
---
Thanks for the excellent service! I needed a lock smith right away to re-key my whole office and within 2 hours Abdul came and re keyed everything and made me as many keys as I needed on the spot. He saved me so much time.
---
Abdul was very quick to response to my emergency needs to change a few deadbolt locks for me. Explained my options and very professional. Even waited about 30 min. due to some emergency police situation. Price is very affordable and he's very honest. I look forward to doing more business with this company again and I highly recommend their prompt and courteous services to other customers.
---
Fast, Honest, Quality Work! I came home on a Friday night to find my old lock broken and jammed shut. Abdul arrived in 30 minutes, as promised! The lock couldn't be opened, so he drilled, cut and pried it out without collateral damage to the door. He replaced it with a beautiful door handle and lock: reasonable price with a lot of care in making sure it was set right.
---
Just want to say again how much I appreciate the excellent and prompt service provided by these guys. I feel so safe everyday with the high security locks. Very grateful for your help!!
---
This company is missed named. It should be A GREAT LOCKSMITH, An AWESOME locksmith, An Amazing locksmith. Every time we've need something he's A+ professional, expedient and friendly. Wish more small businesses were this way!
Photo Book
Social Activity
Have You Ever Been Locked Out of your House? | Lock and Roll locsmith https://t.co/WkRi1TbDcX ##locksmith ##ranchocucamonga via @LockanRoll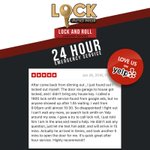 #locksmith #ranchocucamonga we have the tools we have the talent plus Best rates in town. https://t.co/4ZEmnnydIe https://t.co/KWTKFFNZmi
Affordable & Reliable Locksmith in rancho cucamonga http://t.co/qNpEdNVvI5 #locksmith #ranchocucamonga
From Our Website
Lost your keys, locked it on inside your home, or discovered that it is not working properly and you need to duplicate your keys? At Lock and Roll locksmith, we provide a series of domestic locksmith professional services. Whether you mistakenly locked on your own out of your home. Lost your keys and also require new ones made. You simply intend to upgrade the locks you're presently utilizing to more safe and secure alternatives. Lock and Roll locksmith has your property locksmith needs covered.
Nearest Businesses